Rapper, songwriter, and professional wrestler Bad Bunny has announced his tour, El Último Tour del Mundo (The Last World Tour 2022), to promote his new album of the same name. The announcement was made through a video on Bad Bunny's official Instagram page, which also featured professional wrestler and actor Triple H.
In the video, Triple H arrives with a yellow suitcase and hands it to Bad Bunny after praising his skills in WrestleMania on the first night on Saturday. Triple H then goes on to tell Bad Bunny 'to do what he does, following which we see a microphone in the shape of a skull inside the suitcase that reads 'Tour 2022.'
The caption attached with the video read 'Finally! Are you ready?' in Spanish. As soon as the video was posted online, fans were seen commenting and liking the video in anticipation and excitement of being part of the tour. The tickets for the tour are to go on sale from April 16th. The dates, as per reports, will most likely range between 9th February and April 1st.
This year has been a major win for the Puerto Rican star as he also bagged a Grammy for his album YHLQMDLG under the category Best Latin Pop or Urban Album, apart from his win at WrestleMania on Saturday.
Grammy, Billboard Hits: Bad Bunny's Success In The World Of Music
Bad Bunny has proven his and anybody's ability to learn and excel in everything one puts their heart into. Beyond his overwhelming success as a singer, rapper, and songwriter, Bad Bunny has also gained popularity as a professional wrestler.
Bad Bunny attracted great attention in 2018 after he collaborated with popular rappers Cardi-B and J Balvin for the song "I like it." The song became Bad Bunny's first-ever number-one single on the US Billboard Hot 100. This also called in for a Grammy nomination in the same year. He has further collaborated with many different artists during his musical career, like Daddy Yankee, Jhay Cortez, Selena Gomez, Farruko, among others.
Bad Bunny released his third solo studio album El Último Tour Del Mundo on November 27th, 2020. It has received many nods of appreciation from other artists as well as fans. It is also the sole all-Spanish language album to reach the number on the US Billboard 200.
In a recent interview, the rapper revealed his way to making an instant hit. He remarked that he owes it to the beats, the rhythm. According to him, lyrics and melody come later, the real magic is created with beats. Speaking about his song 'Dakiti', for which he collaborated with fellow Puerto Rican singer Jhay Cortez, he called it 'strange', as it is hard to catch when the verse kicks off.
Bad Bunny On WrestleMania 37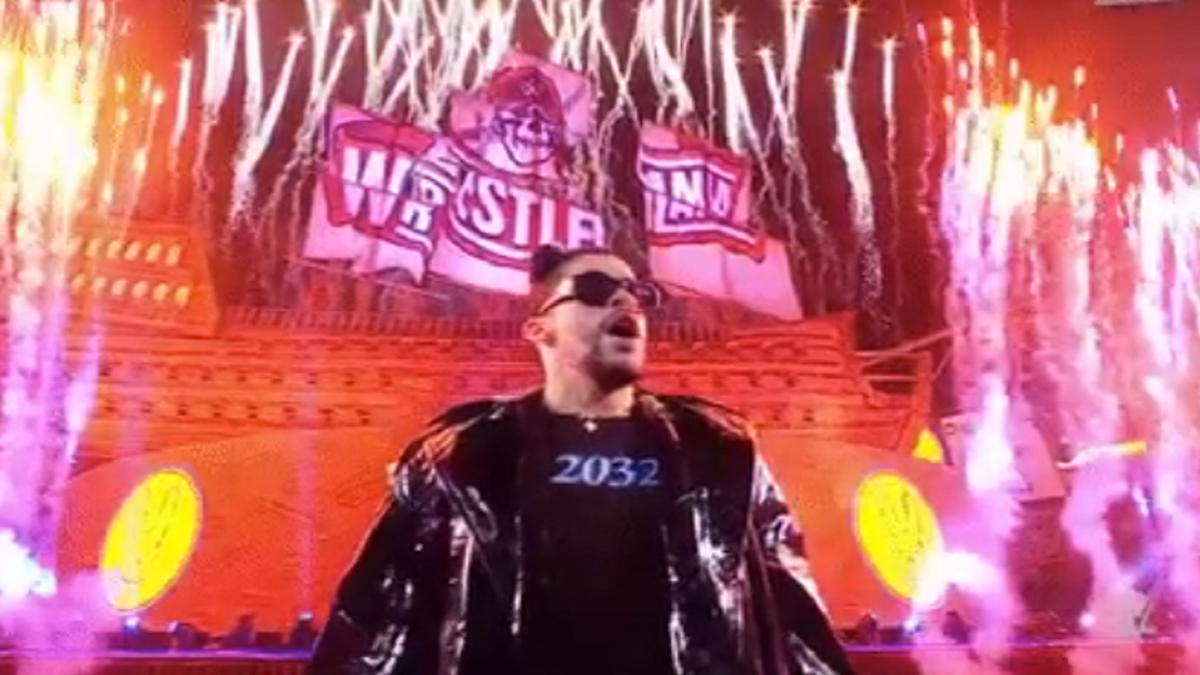 Although his attachment was formed during his childhood, Bad Bunny's engagement with wrestling is newfound, as he joined the promotion campaign for professional wrestling WWE in 2021. In a short amount of time, Bad Bunny was seen being involved in a segment with American professional wrestler and actor the Miz. Later, he also appeared on Monday Night Raw, the weekly WWE television show. With fellow Puerto Rican wrestler Damian Priest, Bad Bunny had emerged victorious in the WWE 24/7 Championship, telecasted as an episode of Monday Night Raw.
In his debut match at WWE WrestleMania, Bad Bunny portrayed surprisingly good wrestling skills, which stunned the audience as well as other professional wrestlers like Randy Orton. Recently, while discussing WrestleMania 37, he noted that he was extremely impressed by Bad Bunny's jaw-dropping performance, considering it was his first-ever match.
Orton, also known as The Viper, stated that Bad Bunny was different and possessed a capability that he failed to find in any other outsider, especially a celebrity. He further acknowledged the success that Bad Bunny had earned in his world of music and still managed to grow even bigger in the world of wrestling. He also noted that Bad Bunny had immense respect for everyone backstage and worked really hard and dedicatedly.
Calling him a superstar, Orton congratulated the singer and now a Wrestling Champion for earning his own space in WWE.