Long-time best friends, Mellisa McCarthy, and Octavia Spencer are all set to meet us on the Netflix screen as a super-duo, but also as everyday, ordinary women in their new Netflix film "Thunder Force", which was released on Friday, 9th April.
One cannot compare this duo with any other action film, comedy, or superheroes, as there exists none who are the same as this couple from Chicago. Even on screen, the actors play childhood friends who unite in adulthood with superpowers. Well, who said two ordinary women without toned abs cannot be saviors of the nation? This duo is here to bust that stereotype and inspire the power and ability of every woman to fight for the right thing every day, despite all the struggles. They defy unrealistic body expectations when it comes to the portrayal of superheroes, especially those that are female.
The stars agreed they were quick at grabbing the chance of working side by side on the screen. They also mentioned that their real-life friendship made their work easier and close to reality as reel-life friends on screen.
Alongside close friend Octavia Spencer, the film has been written and directed by McCarthy's husband Ben Falcone. McCarthy has been teaming up with her husband for a long time now, and it's a team everyone adores. The film also features Bobby Cannavale and Jason Bateman, Pom Klementieff, Mellisa Leo. The film also features a cameo from the husband himself.
'Unfunny', 'Moderate', Thunder Force gets Reviewed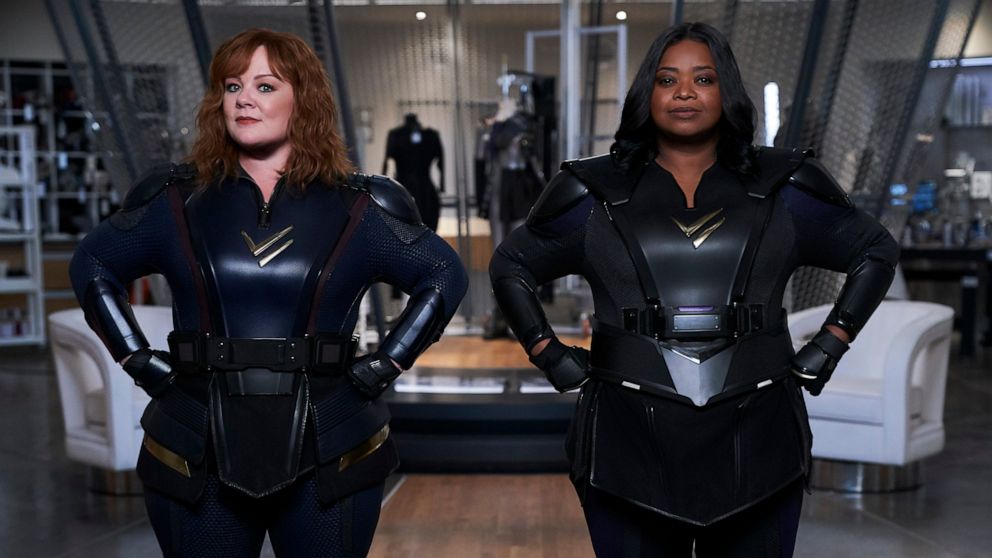 The catchphrase on the poster of Thunder Force says "Newly Super, Almost Heroes", which brings out both the action and comedy elements of the movie.
Although the film and its heroes hit close to home, reviews of the newly released Netflix film have deemed it a failure. The movie apparently loses both its comedy and action midway through the plot. Many others stated that the dialogues fail to set into the scene and the comedy timings are mismatched.
McCarthy, who has starred in movies that did exceedingly well at the box office like The Heat, Spy, Ghostbusters, has fallen a few steps down the ladder with the mediocrity of Thunder Force. Octavia Spencer, who is a recipient of multiple awards like the Golden Globe and Academy Award, may also have failed to touch the high mark with her work in this new genre.
Since 2014, McCarthy has produced over six movies, most of which were directed by husband Ben Falcone. Fans around the globe had termed these films as good, if not great. They also earned between $50 million to $80 million in the box office.
Despite calling it a misfire, Thunder Force is still saved by McCarthy's unmatched physical comedy skills.
Mellisa and Octavia, a Special Duo
In a recent interview, both McCarthy and Spencer stated they had been looking forward to working together for a long time. McCarthy added that the idea of them being superheroes first came to husband Ben, but was immediately supported by the team.
It is not McCarthy's first action film, for she has already gained considerable experience from major hits like Spy (2015) and Ghostbusters (2016).
Oscar-winner Spencer said that this role written by Ben had come off as a special gift for her, as a superhero is something that she's grown up watching and now she was bestowed with the chance to play one.
In a recent appearance on Jimmy Kimmel Live!, McCarthy spoke about the fun she had on set with long-time friend Spencer. She went on to describe a prank that she played on Spencer with the help of other crew members.
As the supercar used by the Superheroes in the movie happened to be a Lamborghini, McCarthy decided to use it as a prop for the prank. Lowering the already small seat gap of the car, McCarthy and the whole crew watched Spencer enter the car in her special suit and get stuck.
If not anything else, we now know for sure that the two best friends had a blast shooting for Thunder Force and who doesn't like a good time with friends?
Bad reviews and comments may have prevailed post the release of Thunder Force, but fans would like to see this duo shine again on screen, as friends or otherwise for both the actors have earned the reputation of being beyond excellent.